Elon Musk has been in the news for all the wrong reasons lately. No, he didn't do anything wrong, but he is definitely changing the way how people tweet these days.
This time, he's decided to restrict its users for the number of tweets they read each day. He justified this by tweeting:
In other words, he thinks 'people are hogging too much data'! And in order to curb that, he put the restrictions and as per the new rule, the limits are:
Verified accounts (Blue Badges' accounts) – 6k tweets/day
Unverified accounts – 600 tweets/day
New Unverified accounts – 300 tweets/day
This didn't sit well with Twitter users. Over 7,300 dismayed users reported issues, encountering errors like "Rate limit exceeded" or "Can't retrieve tweets," marking the latest glitch on the social media platform since Musk assumed the lead role.
Twitter has been making changes over the past few months, and people are not happy. They have put restrictions on public APIs; hence, all the third-party apps that relied on the companies' free public APIs are either temporarily shut down or completely closed.
Sites such as Poet.so, which beautifies posts from Twitter, are temporarily down due to API restrictions.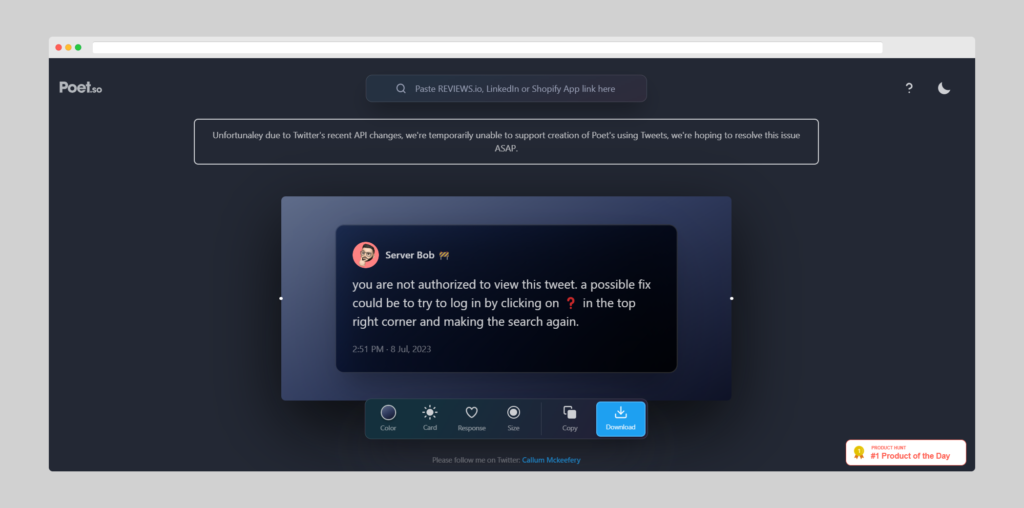 Then, there is another restriction: you cannot view Tweets without creating an account. Twitter was getting away with these restrictions, limitations, and policy changes since there is no real competitor on a text-based microblogging platform…
…until, Mark Zuckerberg tweeted this.
Zuckerberg launched a new text-based microblogging app to rival Twitter, and the app just massed 70 million users, as of this writing.
Things are changing so rapidly that time will tell if Twitter can fight back and remain the undisputed public text-based champion app of the world or not.
---